Page path:
Papua New Guinea: Marine conservation and nature tourism
Papua New Guinea: Marine conservation and nature tourism
Gonubalabala Island is a small island in the outer southeast of Papua New Guinea. Gonubalabala has been home to the Mailulu clan for at least six generations, they are the caretakers of the land and the reef.

A special attraction of the island are the numerous manta rays, which visit certain reefs in the coastal waters to be cleaned by cleaner fish. These cleaning stations are the destination of numerous tour boats with diving tourists. The waters and coral reefs around the island do not have a special protection status yet. However, the inhabitants of the island are aware of the importance of the marine environment and its need for protection, also with regard to the ecotourism they practice, and they are very open to specific measures for reliable marine protection.
At the beginning of the project is the careful cooperation with the island owners. This process is accompanied by the partner organisation "Eco Custodian advocats", which has many years of experience with participatory processes in Papua New Guinea.  

Nydia Steven and her family run a guesthouse with two cabins on the island. They are willing to play a significant role in the conservation project. Their task is to bring all land and reef owners involved in the island together and to define with them the necessary measures and rules for the protected area.

At the moment the dive boats provide a certain income through an anchorage fee of 50 Kina (approx. 15 Euro). Tourism will benefit from a protection zone around the island, as this will not only better protect flora and fauna in the sea, but also increase the attractiveness of the island for tourists.

Important protective measures are a speed limit for motor boats to protect the mantas swimming on the surface, a ban on anchoring on the reefs and a ban on fishing. However, the fishing ban means that the island's inhabitants, who are all dependent on fishing, will lose some of their fishing grounds. Any compensation must still be discussed with the islanders, as must all other aspects of the protected area. And as usual, all the members of the clan will meet and discuss the project before it starts.
Not only the marine reserve is intended to improve the ecological situation on the island. For compost toilets, rainwater tanks or mooring buoys, Nydia and Nelson are seeking support from Crowdfunding.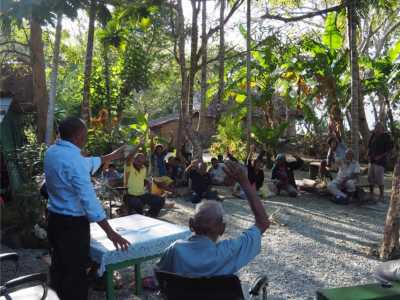 In July 2019, all owners of Gonubalabala Island welcomed the project and have since been willing to put the reef surrounding the island under protection. After more than three hours of intensive discussions, the project was unanimously approved. The island owners decided to stop fishing on the reef around Gonubalabala Island and to establish rules on what is and what is not allowed on the reef in the future.
The project will continue in 2020.