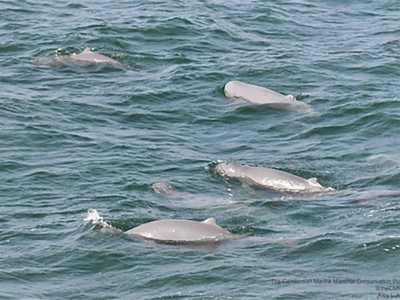 The objectives of the project are:
Actively protect the Irrawaddy dolphin population in Kep and Kampot on the Gulf of Thailand in southern Cambodia.
Enhance the population development
Developing a healthy ecosystem
Create more regional knowledge about the Irrawaddy dolphin
Raise awareness of dolphin conservation issues among the government and the general public
Developing specific legislation for the protection of the Irrawaddy dolphin
Page path:
Protecting Irrawaddy dolphins in Cambodia
Protecting Irrawaddy dolphins in Cambodia
As a result of the COVID-19 pandemic, CMMCP focused on building a local research team. In February 2020, four Cambodian staff began an intensive 10-week research and training program in which they learned data collection and compilation and how to use scientific equipment. In April 2020, CMMCP qualified the first fully Cambodian marine mammal research team.

This team continues research by collecting 12-20 hours of data per week in the form of land and boat surveys. These data are reported monthly to local and national authorities. The research team in Cambodia is now fully equipped and our lead Cambodian researcher can be paid for his work.

In September 2021, we again continued most of our projects with an international team of scientists - this time with a clear focus on training Khmer at universities and in the field, and supporting local and national institutions against illegal fishing. In the meantime, we were able to ensure that a local team can continue our important research on the endangered Irrawaddy population.

 
To continue our work and bring about sustainable change, we need more financial support!


For more information:
Donation account:
Foerde Sparkasse
Lighthouse Foundation
IBAN DE36 2105  0170 1003 9417 52
BIC: NO­LA­DE21­KIE
Even more par­ti­cip­a­tion